Stephen Rushmore Jr.
Member
My gf and I got together with her family this past Sunday and chowed down at the Dinosaur in Harlem, NYC. I was very happy as a couple of her cousins had never been there before and they both loved it (even her cousin who really isn't into barbque)! I tried to get some pics of new things I haven't posted here already. I hope you all enjoy them almost as much as I did.
-bb
The Creole Spiked Deviled Eggs. One of my favorites. Cold, with a nice balance of mayo, mustard and vinegar in the filling. Nobody else wanted to try them, then they actually tasted them and loved them! Go figure.

Fried Green Tomatoes with Buttermilk Ranch dressing. They are pretty good and the whole table loved them. Crispy on the outside and firm, yet not crunchy on the inside.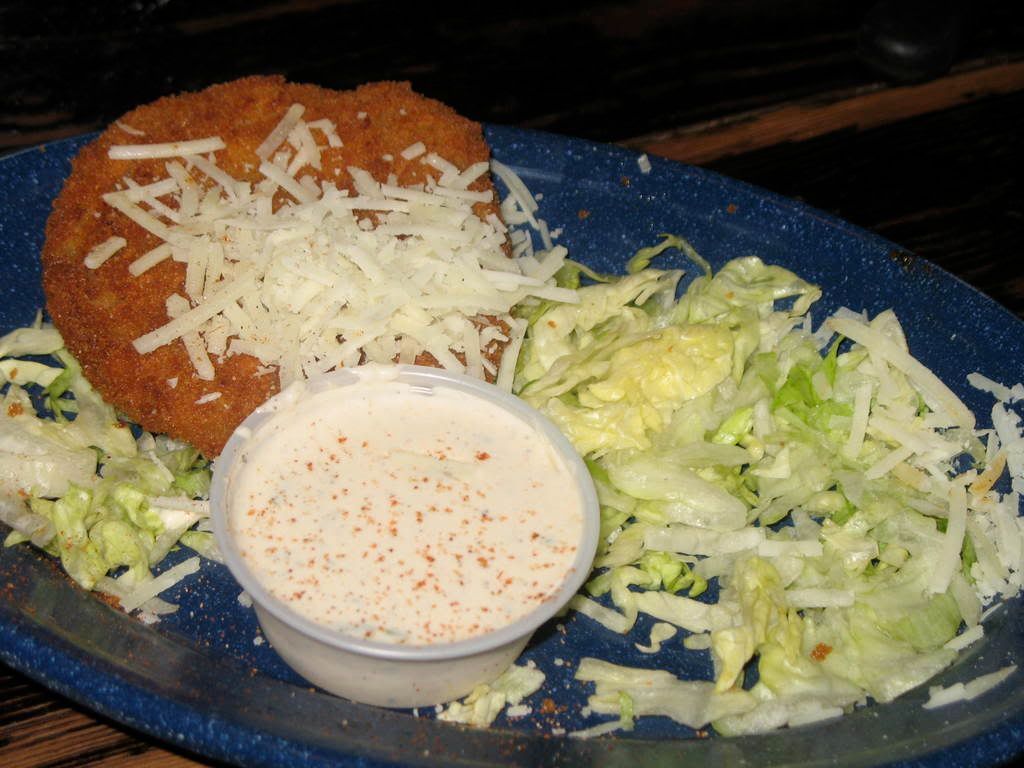 The all time favorite Wango Tango wings. Meaty, spicy, smokey, wonderful char from the grill, and lots of flavor from the sauce. I grew up in Central NY eating lots of buffalo wings, but I'd take these ones any day of the week.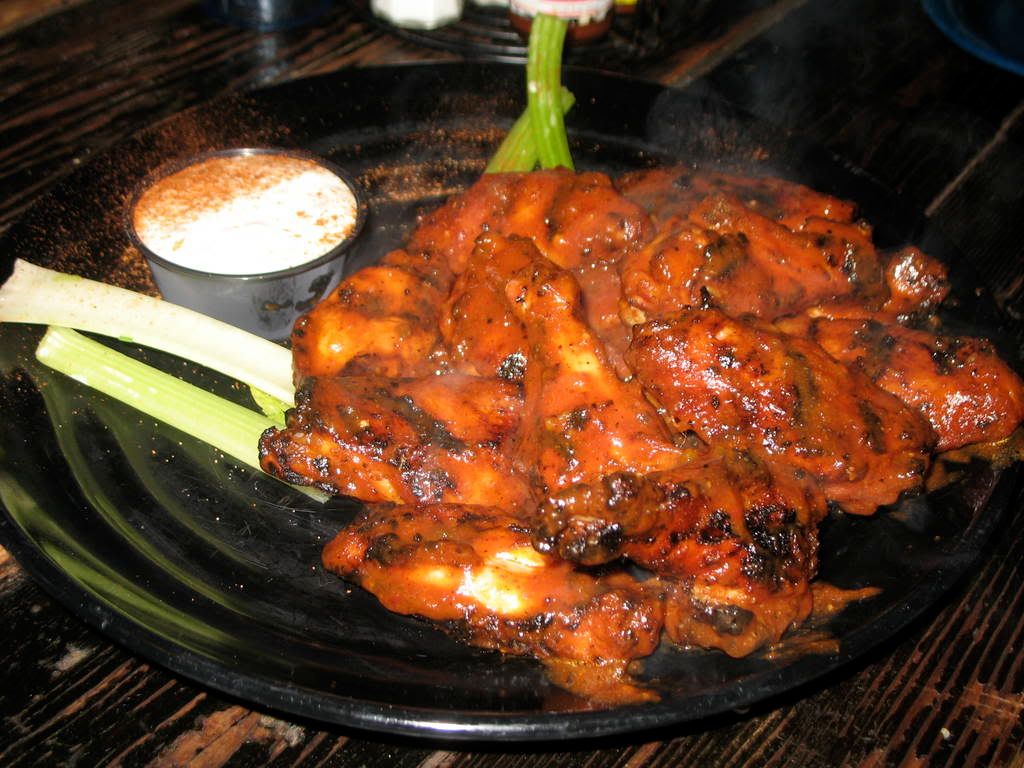 My Pork-Sket sandwich and sides. This shot was to focus on the sides. I had the barbque beans and carrot raisin salad. The beans were great as usual, thick, goopy and laced with just a bit of meat to give a change in texture and flavor. The carrot raisin salad was a real winner with me. I think it was mayo based and the carrots weren't raw, but had a nice crunch nonetheless and the raisins provided a welcome sweetness.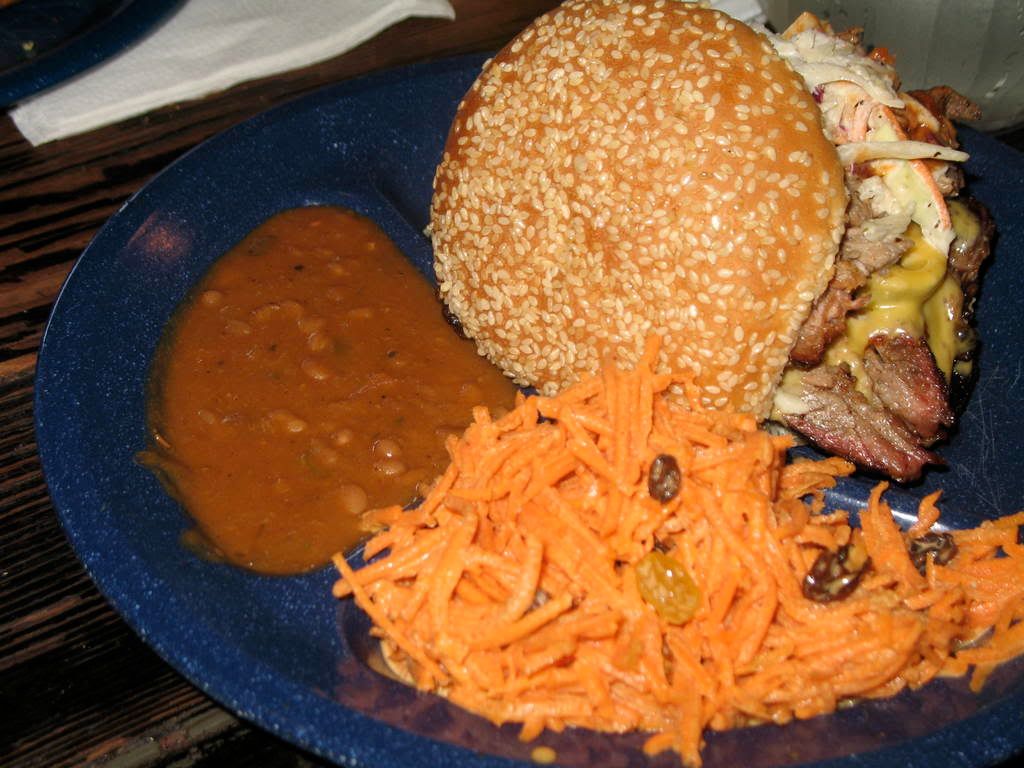 A money shot of the sandwich. They forgot my side of Garlic-Dill pickles, but when I asked for some, they brought out a cardboard boat full of them. Nice! They are a great palate cleanser. This double decker has smoked brisket covered in cheese and jalapenos on the bottom and pulled pork with coleslaw on top. It didn't start with sauce on it, but I added some as I really dig their sauce and I think it does add something rather than distract from the meat. First, my only complaint about this sandwich is that I find their brisket to be fattier than I care for. I suppose I could ask for lean brisket on it. I'll have to try that next time. On to the good stuff. The brisket does have a wicked crust on it and is supremely smokey. I thought the cheese might be a distraction, but It worked really well, binding everything together and providing a welcome flavor. The jalapenos were hot, but not blow your head off. The pork was smokey, soft and just one of the best things ever. I love the texture of their pork and I could eat it by the plateful. The slaw was crunchy and had a cooling effect. A real winner for me was the sesame seeded bun. Sturdy, yet soft and great for tearing apart and mopping up the remnants of my meal. A unique sandwich that is aces in my book!

My gf's ribs and brisket platter with beans, cornbread and mac & cheese. These ribs are very tender and smokey and I hope to travel some more this year as I haven't sampled a lot of ribs, but these are my yardstick so far. The mac & cheese was exceptionally good today. Very cheesy and stringy with a nice crust on it.

On to dessert…
Key Lime Pie. Sweet, tart and with a graham cracker crust, not the best I've ever had, but pretty good.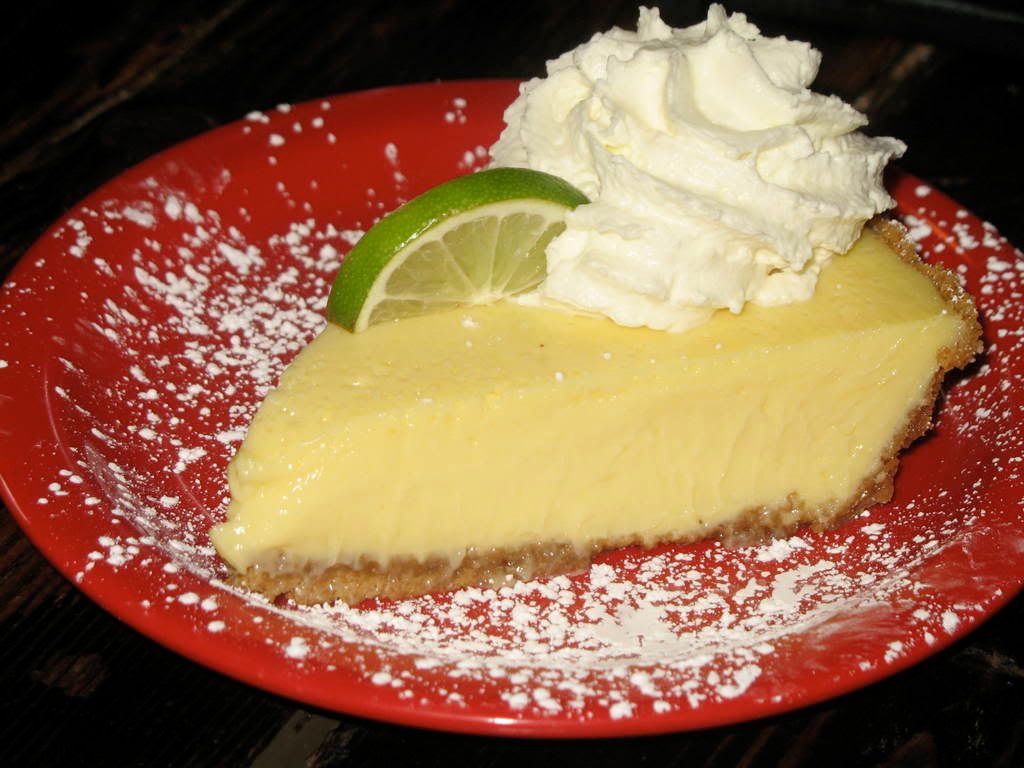 Apple-Cranberry cobbler with ice cream. This was really, really good!! Sweet and tart as well and the crust was crunchy on top with a soft inside and it became a glorious mess when the ice cream began to melt!

http://i246.,2,396178,0,23974,66.65.40.228
396177,396165,396165,2008-05-06 10:36:25,RE: Lobstah lunch near Hartford CT"