Anonymous
I was recently in Charlotte just long enough to grab a couple of meals. Since the plane landed well behind schedule, my options for dinner were limited. Luckily, South 21 Drive-In stays open until 10:00PM on Friday nights and I made it here with a half hour to spare. No doubt that this was my kind of place when I saw the old-fashioned sign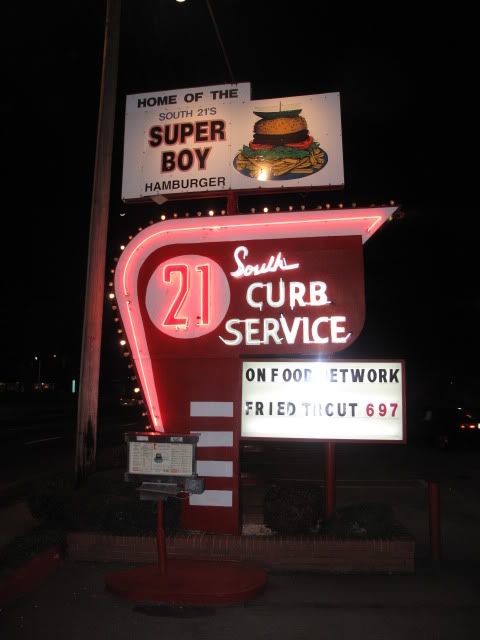 lit up in the front of the parking lot.

Just drive into one of the slips,


check out the large menu


and place your order through the speaker. In just a few minutes, one of the carhops


delivers your food. I spoke to a couple of them and they were polite, friendly and well dressed in their fedoras. Many of them have been here for years.

Being quite hungry, I went for two sandwich/meals. First was the Super Boy burger,


which comes with a dill pickle pinned to the top bun. Since it appears in the Hamburger America book, I expected a really good hamburger, but was disappointed. It is impressive looking with the two patties and well dressed with lettuce, tomatoes, mustard and onions. But most of the flavor came from the condiments and the toppings and little from the burger itself. The french fries that come on the side were typical fast food fries and I don't mean that in a good way.

Fortunately, I also tried the bizarrely named Fish-O-Burger.


Even though that sounds like something straight from the McDonald's playbook, it was so much more. There are two lengths of firm, fresh, lightly battered trout. On the side was more of the fries, some fine slightly vinegary cole slaw and tartar sauce that tasted like it could be made here.

But the best thing to eat here is the excellent onion rings.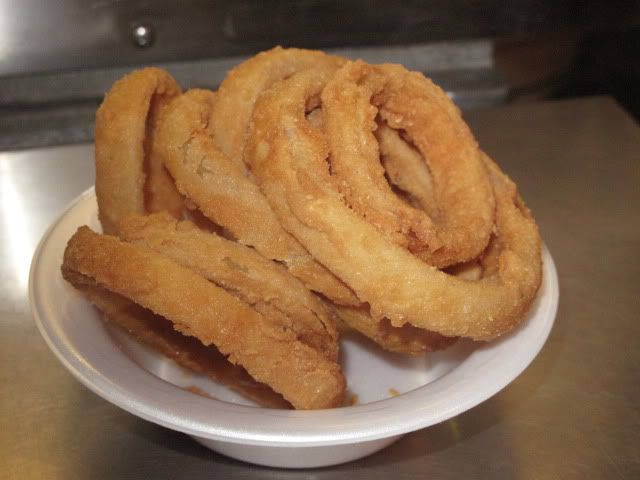 A beautiful golden color, they were extremely crunchy, with great oniony flavor. In his review, Michael Stern calls them greaseless, which made me think I wouldn't like them. I like my onion rings greasy. But these definitely worked!

To drink, local favorite cherry lemon Sun Drop and a thick chocolate shake.


I didn't like everything here, but sure liked enough for a return visit.

Since I had parked in the front of South 21 Drive-In, it became necessary to drive around back to see their famous billboards.


This is just a small sampling and is fun to look at!

South 21 Drive-In
3101 East Independence Blvd.[/,29,504642.001002001001001001003002001001001001002001001001002002002001001002002001001001001001,28,9261,209.195.152.119
579600,568619,579599,2010-04-12 14:32:10.797000000,Re:Orlando-Mouse Food Recommendations?"