nysharks
Member
The Sharks had a controlled scrimmage up in Schenectady, New York this past weekend. Driving 3 hours to watch players practice is not my idea of a worthwhile time, but it became more of an excuse to go hit the road looking for some good eats.
The first stop was to Gus's Hot Dogs in Watervilet. The place is on a side street in a working class neighborhood. Some might take offense, but the place is a dump! The little red shack would make a good illustration for the definition of delapidated in the dictionary. But on the plus side, they served the Capitol Region's classic of mini-hot dogs with meat sauce. There is usually an argument for which place serves the best mini-hot dogs and Gus is usually one of the contenders. It can't be too bad as there was a line when I got there around lunch time on a cold sunny day.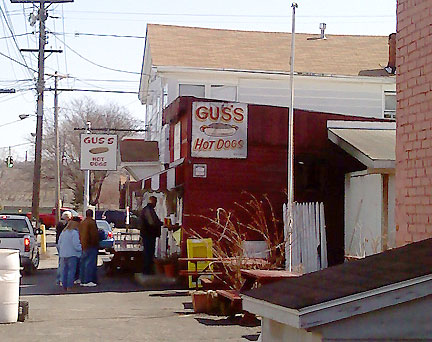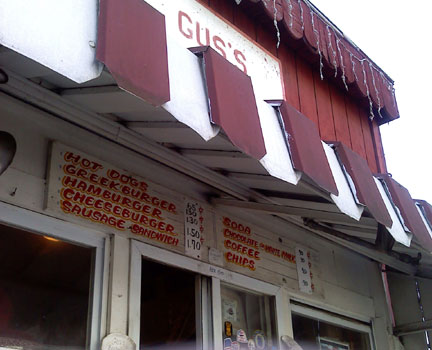 I ordered 2 mini-dogs at only 65 cents each and a sausage sandwich. I have been to Famous Lunch quite a few times before so I kind of knew what to expect with the mini-hot dogs, but When I first took off the wrapping I thought that they sold me a hot dog that had half of it broken off. I poked around a bit and saw that it was just a very small hot dog. As for the taste,I can't say I was impressed as others have been. I would prefer to be able to taste the hot dog, but the taste was overwhelmed by the meat sauce, the onions, and especially the bun.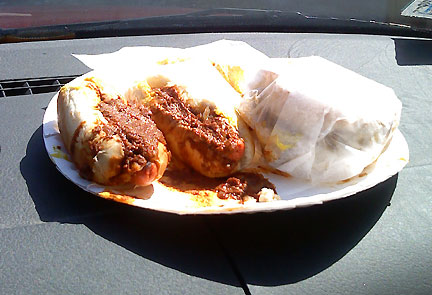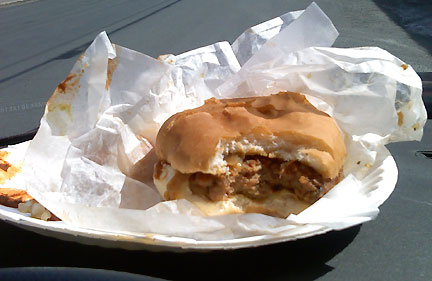 As for the sausage sandwich, it was very tasty with grilled onions and peppers. It consisted of an Italian sausage patty served on a hamburger bun. It was good and I would get it again, but I think I prefer the sausage in its casing to give it a nice snap with every bite.
I still had plenty of time to get to the field and I was still a bit peckish, so I looked at my trusty GPS and found a Hot Dog Charlie's was nearby. HDC also serves mini-hot dogs with a meat sauce and so I ordered 2. A sign above the cash register said they had a clam roll for $2.99. Going against my better judgement, I ordered one. Unlike Gus's, Charlie's building was relatively new or renovated, clean, and well-lit. The kitchen is open and you can see them prepare your food.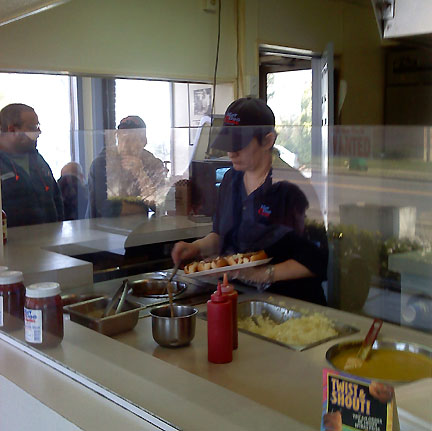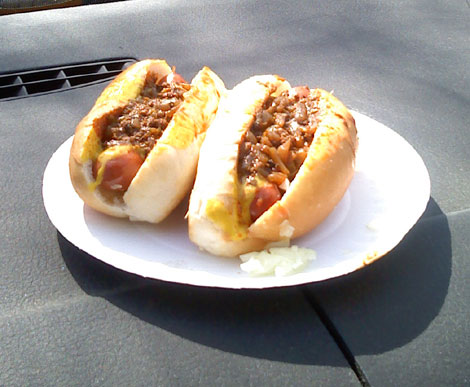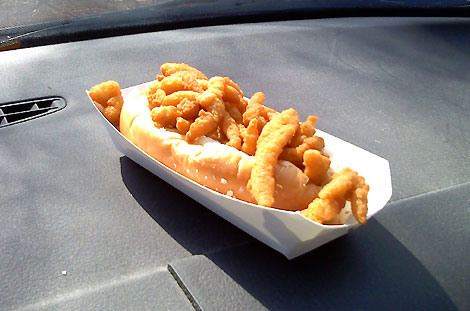 I ate the food in my car, and thought that the hot dogs were much better than Gus's. There was a better balance of the ingredients and you could taste the hot dog. I still prefer Famous Lunch, but this was a close second. As for the clam roll, what can you expect for $2.99. They reminded me of the fried clams you used to get at Hojo's.
After spending 3 hours in the cold watching the scrimmage and doing a few interviews with some of the players (found out that one of the rookies for the Sharks had moved to New York from Dallas because she won VH1's "I Want to Work for Diddy" reality tv show) I headed back to the city. Unfortunately it was too late to hit more hot dog places (like in Kingston) and I was kind of getting hot dogged out. For dinner I went to a Price Chopper supermarket and bought my favorite Albany deli sandwich the Vincentian. I wrote about this in the beginning of this thread and it was just as good as before.