empty_1
Member
Just a few miles further up the river from Pepin is the town of Stockholm. Even smaller than their neighbor, Stockholm is basically one block in size. The reason for the visit was to check out the Stockholm Pie Company. I had read rave reviews about the place before leaving on the trip and decided it had to be a must visit.

I have absolutely been jonesing for a good slice of Sour Cream Raisin Pie for a while now. Actually, ever since I had the lousy slice at Norske Nook a few months ago. Located right on the corner, Stockholm Pie Company sure looked promising on the outside.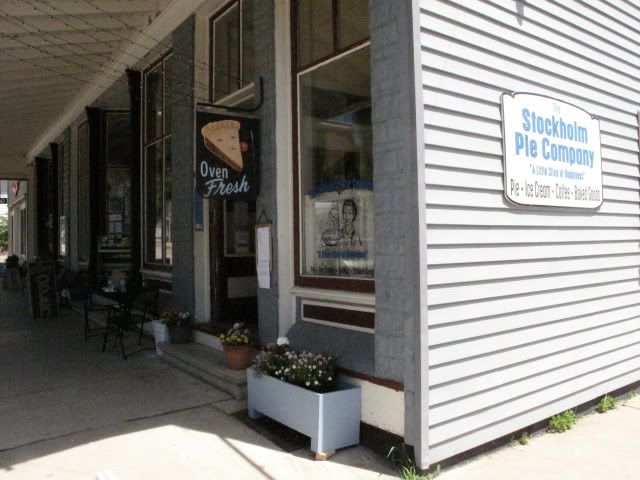 There was a list of pies available that day on a post by the front door and Sour Cream Raisin was on the list. Woo-hoo!!!! When we walked in, two smiling women greeted us and asked how they could help us. I scanned the inside blackboard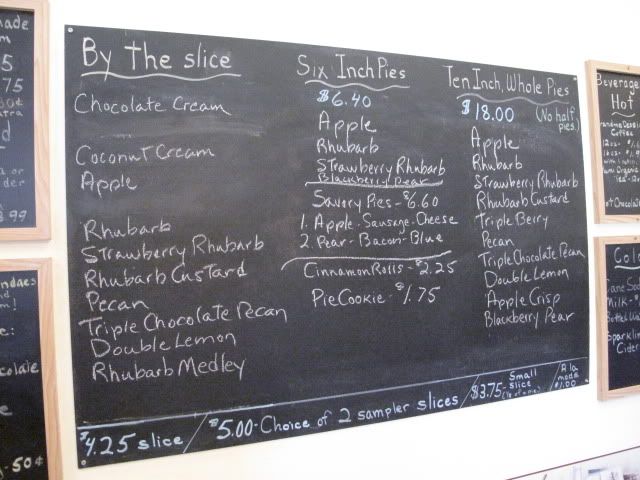 and my heart immediately sank. Sour Cream Raisin was not listed. I asked and they told me someone had just come in and bought the entire pie. And they only make one a day. This put me in a foul mood for a few seconds, until I realized just how many other great choices there were to be had.

Since both Johnny and I had eaten dessert at Harbor View Cafe, we decided to only get one slice here, but get more to go. Being a lemon lover, Johnny ordered the Double Lemon Pie.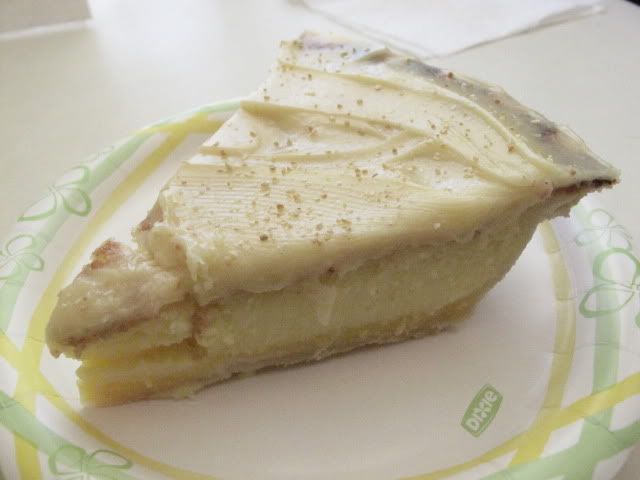 As you can see, he already attacked it with a fork, before the photo could be taken. Kudos to him for trying to fix it the best he could. And for putting up with me. The bottom part of the pie was a dense, sharp tasting, lemon chess pie. The top had a light lemon custard with cut up pieces of lemon in it. Johnny, as accomplished a pie eater as I know, called this the best pie he has ever had in his life. And he is not one prone to hyberbole. He visited me in Pennsylvania last weekend for a cousin's wedding and he was still talking about this pie!

Once I found out that their version of the Apple Pie is "baked in a bag", similar to what they do in Mukwanago at The Elegant Farmer, that became my choice.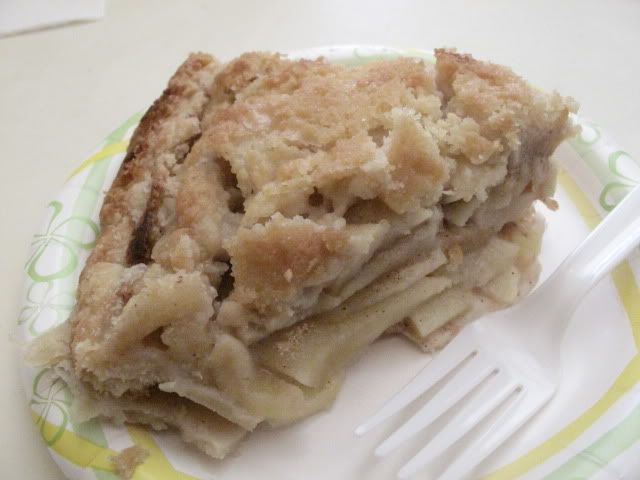 The filling is layer upon layer of fresh, sweet apple and the top is more reminiscent of a cobbler or an apple crisp. Ultra-dense, this is a substantial slice of pie. I think it is a step lesser than The Elegant Farmer's, but a terrific slice of pie, nevertheless.

The inside of Stockholm Pie Company is a long narrow hallway, with a few seats and a ledge, for pie eating.


There is one table by the window, which is where we sat. While we were eating, the owner, Janet Garretson,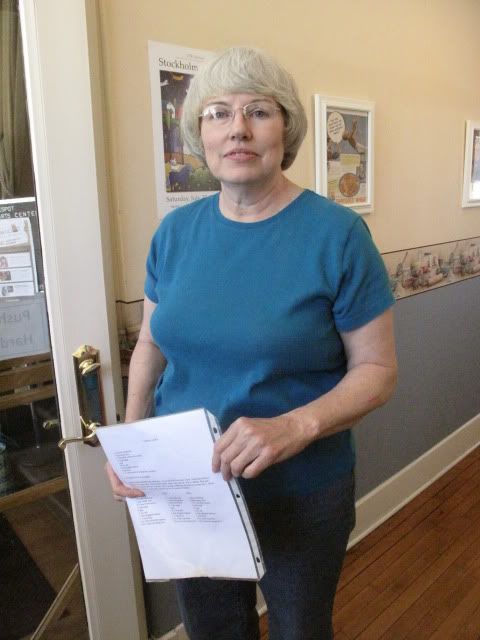 came over to check on us and we ended up chatting for a good 20 minutes. To go, Johnny got a slice of Pecan Pie and I, a six inch Blackberry Pear. Unf,29,593571.001001001001002001001001,8,9261,209.195.152.119
593998,593870,593902,2010-06-18 10:08:12.747000000,Re:Austin to Santa Fe to Estes Park – Any must do's?"