Stephen Rushmore Jr.
Member
While I was in town, Johnny wanted to take me to a couple of dessert places he had found. Stop # 1 was Dangerously Delicious Pies in downtown Baltimore. He had actually taken me to a different location of DDPs two years ago (was that area called Fell's Point?) and we really enjoyed it. In the meantime, he had stopped back a number of times.

Dangerously Delicious Pies was started by Rodney Henry, who is a rock musician by trade. He decided music wasn't paying the bills, so he started a pie shop. Apparently, he had grown up in Indiana learning the family recipes. The idea of a rock musician starting a pie company does seem a little strange, but it obviously works and he has gotten all kinds of attention from magazines and tv. When we were here a couple of years ago, we got to chat with him for a while and he is a really cool guy.

The outside,


with their logo of crossbones underneath a pie, which can also be found on their menacing looking pie boxes.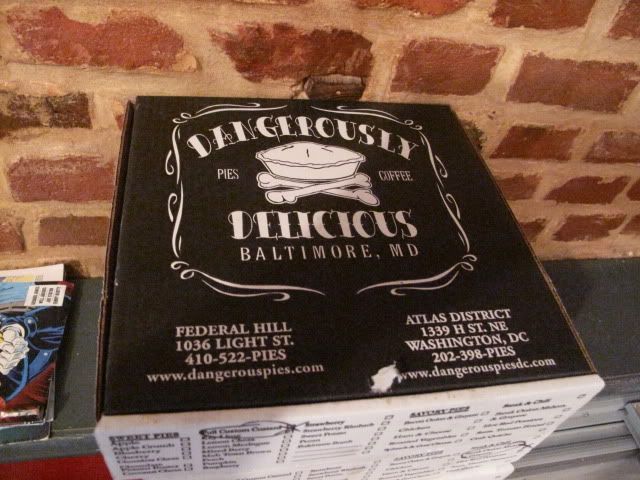 The interior has one table in the window and lots more tables in the back, but most of the seats in the main front room are at the counter. Johnny and I plopped ourselves down and looked over our choices.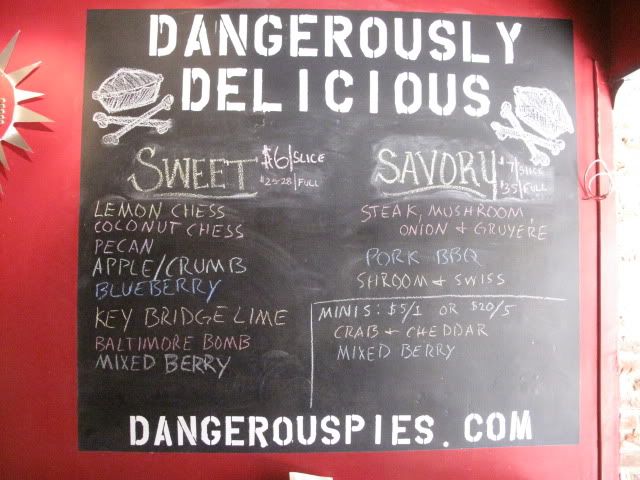 Although the savory pie choices were tempting, we had already eaten at The Breakfast Shoppe and Attman's, so we only had room for dessert.

Johnny went with the apple crumb,


which contained lovely, sweet apples and a cobbler like top, with plenty of oats. Good, solid slice of pie. I ordered what the young woman serving us called their signature pie, the Baltimore Bomb.


Those of you who have been to the famous Lexington Market are undoubtedly familiar with Berger's cookies, which start with a vanilla wafer and cover it with a ridiculous amount of dark chocolate. The Baltimore Bomb uses a chess pie base and mixes in some Berger's cookies. The top of the pie is light, while the bottom is rich and fudgy. A wonderful combination!

Another plus about Dangerously Delicious Pies is that they open at 7:00AM everyday. We weren't here that early, but it sure is nice knowing they are here if an early morning pie emergency crops up. We walked in around 9:30AM and other than some other customers picking up phone-ins, we were their only customers. The young lady working was very pleasant and personable and we enjoyed chatting with her. She really loves working here. I did manage to get a shot of her


taking some beautiful pies out of the oven.

Dangerously Delicious Pies
1036 Light Street
Baltimore, MD
410-522-PIES

[link src=http://dangerouspi,29,601020.002001001002001001002001001001004001001001,14,9261,209.195.152.119
605491,605469,605469,2010-08-10 15:46:01.483000000,Re:Fried Foods to whet the appetite and then there is weird stuff"