Copperhedzkettle
Member

Last Spring I discovered I live on the migratory (sp?) path of the Hummingbird, Indigo Bunting, Blue bunting and the Bluegrosbeak.
I WAS GLUED TO MY WINDOWS FOR FIVE DAYS!
I expect to see them soon, but their timing may be a tad off due to the unusually cool Spring we have experienced here in GA.
Please excuse my feeble attempts at photography, it was my maiden voyage into bird-watchin/phototakin. I was shooting the Diggie Cam I had painstakingly positioned on a beat/to/hell/and/back bean bag chair, through a pair of binocs, through a window. I am aware whut a high tech method this wuz, and hope you are still following me here.[;)]
Here's what has been identified by my fav Bird-watchin site as a Blue Bunting, some said Indigo. All looked black in the shade, but turned either a turquoise or cobalt/almost/purple in the sun. Quite fascinating and unbelievably difficult to capture their true color. It changes so qucikly.
Here's what the site identified as a Bluegrosneck. Notice the scarlet or rust color on the wings.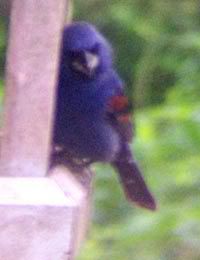 Here's another fumbling attempt by "yers twooley" from my Adobe Photoshop 4.0 to give you an idea of the difference in size. IB or BB to the left, Bluegrosbeak to the right.
I counted as many as 27 Buntings at a given time. Here are five in one shot right at my front porch. (look for the blue blurs….Bwa-hahahhahahah) In case you are wondering, thats the self-deprecating laugh I have perfected it to an optimal level over the years.
This shot is from my "The One That Got Away" folder. I have a trillion more stories of missed wildlife shot opportunities than ANY fisherman out there. Would this not be a gorgeous photo if I had known whut the heck I wuz doin? (the blur you see is a IB in flight)
I posted these photos last year, but thought it appropriate to display again on this thread. It also brought to my attention that I have been on Roadfood.com for a year. So its practically MY BIRTHDAY!!!!!
Where has all the time gone?
Last but not least this is my Sun Conure sitting 30′ in a tree. It took all day to get her back. (This was last spring too. Since I am reminiscing I may as well limit it to one post.)
Shadie Ladie (my parrot) is alive and well, and still a big pain in the Pitooey.
Cause for celebration,
Happy Springtime!
Happy Birthday to ME!
Best to all at Roadfood,
Copper