Stephen Rushmore Jr.
Member
Returniing to the hotel lobby, several of us sank into the lobby arm chairs for a few hours of digesting. We could feel the brisket, sausages and whatever else we had coursing through our veins. Folks coming in the door took on the appearance of hams and prime ribs…maybe the Happy Hour was adding to the illusion.
Our evening ended with a short walk around the corner to a Mexican restaurant called Serrano's. It had a lovely outdoor patio that was completely canopied in old growth trees. There was a small waterway off to the side (probably for heavy rain or flooding) and a set of steps large enough to function as seats for an outdoor stage on the other side of the waterway.
After the afternoon's meat expedition, I opted for a mushroon and a spinach enchillada. There were no other courses needed. Both were good, and might have been better if they hadn't been lost in the flood of the day's barbeque. We had 7 folks gathered around and things progressed well until we realized the beautiful tree canopy was home to numerous birds. One member of the party took a direct hit…but we margarita'd on. The second hit narrowly missed my brother's hand but squarely nailed the check. Money flew from all quadrants and we were outta there!
Sunday, April 27th
We were up earlier than I expected and got to packing, checking out and grabbing a few nibbles from the hotel. As we had several hours before departure, we headed down to 6th Street for a little walking around.
Not mnay places open at 11am on the Bourbon Street of Austin, but the storefront tables at Roux called out for a Bloody Mary stop. We sat down for a few…minutes and watched Austin waking up on a Sunday morning.
As we were the only patrons, the servers were all extra friendly, almost bordering on lonely. Spotting a Muffalata with "Nawlins very own Gambino Bread," we opted for a light snack of the Muffalata and some Southern Sliders.
The sliders came in Beef, Bison or Pulled Pork options, and we did the beef. It was routine. The Gambino bread was very good, the Cajun Chow Chow or Olive Tapenade wasn't. The flavor and depth were missing.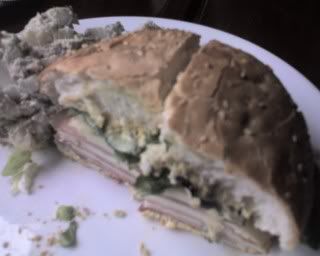 Our next stop was Amy's Ice Cream which is a small, local group of at least three stores. The outdoor location in SOCO was still closed, but a few miles South on Congress, the motel location was open.
I call it the motel location as it sits in an old, motel which has been converted to retail. Amy's occupies the first set of "rooms" across from the old front desk/manager's apartment building and shares parking with several trendy little shops and boutiques.
We sampled several bases with Mexican Vanilla being my final choice. I was told Mexican Vanilla is a cross between a vanilla bean and an orchid. It has a deeper flavor than regular vanilla and became even more flavored by the addition of a peanut butter cup.
We also had an Apple Pie with raisins added in. Very enjoyable!
As time was running low, we headed for our final stop…a return to The Big Kolache. As we approached from the north, it became apparant there were no cars in the parking lot.
How could this be. I had checked the times and had been there several times that week. As we approached, I thought I saw someone inside reading the paper. There was hope yet.
As I put the car in park, I noticed the sign on the door. "Sorry – Due to High Demand – We are sold out of ALL Kolches." So much for my plans for a final big haul at The Big Kolache!
It got me to wondering…with a town full of Roadfooders, had they beat me to the Kolache!
Any way, it was off to the airport…sans Kolaches and our final stop…the airport version of the Salt Lick Barbeq,29,396548.035,1,37546,67.177.126.124
396582,396548,396548,2008-05-03 10:13:58,RE: Austin Texas – April 2008″