Stephen Rushmore Jr.
Member
Saturday, April 26th
The big day was here…we all met in the lobby of the hotel and then it was time to board the bus…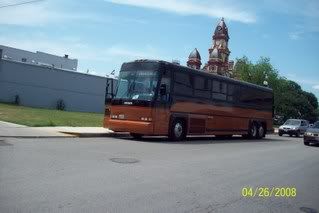 So that this man…Michael Stern…
Could lead us to Barbecue…
Buffetbuster in back on the right and his cousin Johnnie

Our first order of business was Round Rock Donuts, a short 25 minute ride north of Austin.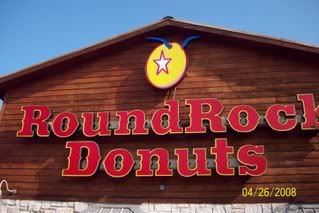 These donuts had to be special as there was a line of cars at the drive-thru and an even bigger line of folks waiting for donuts.
Leading the charge was the Signman with the first dozen…
We sampled the warm, glazed, chocolate glazed, chocolate cake, Elgin Sausage stuffed donut and the Pig in the Blanket. All were a great start to our day…and the days of many others judging by the number of cars and people.
Next stop, about 20 minutes of east of Round Rock to Louie Mueller Barbecue. Order your meat by the pound, choose your sides, select your beverage and then let the fun begin!
Going in…ChiTownDiner and Rick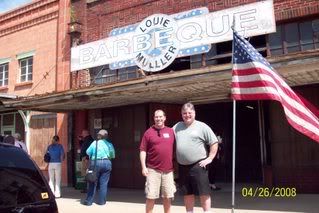 The line forms here…

To meat these guys…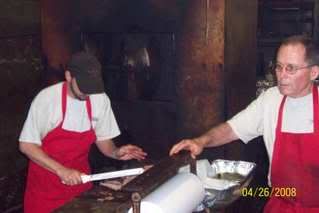 For some of this…1 lb of Texas Brisket and one each of regular, jalepno and chipolte sausage. Sides were beans and cole slaw. Check out the white bread for wrapping, mopping or decorating!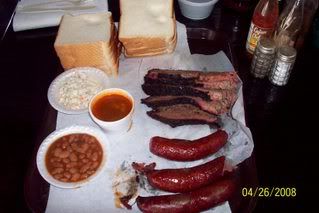 Here's the group – eating and meeting…Jane Stern, far right in the black.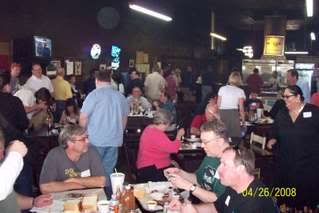 Next, another short ride south to Elgin, Texas home of the famous Elgin Sausage. Our stop was the legendary Southside Market. Arriving around 11:45am, the parking lot was already beginning to fill.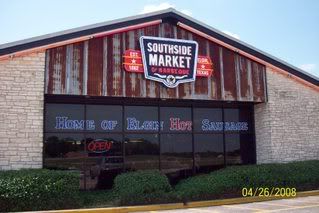 We selected the 4 meat combo with mutton, pork, baby back and brisket and a pound of sliced sausage.

This place could sure host a crowd of hungry folks…check out all the food!

It a few minutes after we were eating Michael and Jane Stern told us Bud Royer of Royer's Round Top Cafe would be sampling his famous homemade pies. Here's Bud slicing, serving and topping your favorite pies…

http://i283.photobucket.com/albums/kk295/Ch,29,396548.018,1,37546,67.162.13.117
396565,396548,396548,2008-04-28 14:25:05,RE: Austin Texas – April 2008″