Stephen Rushmore Jr.
Member
Saturday, April 26th – continued
From Elgin, we got a little rest on the 45 minute ride to Lockhart Texas. Lockhart is some 30-40 minutes south of Austin, so we had completed an eastern semi-circle around Austin. We arrived first at Smitty's – conveniently located right downtown off of Main Street America.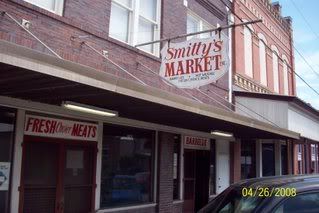 No menus or utensils at Smitty's…just great meat. The history is covered in the Roadfood books and the Kreuz Market founder's daughter owns this piece of American history. This is one is a gritty and smokey place as the cue'ing takes place with flames and embers right on the floor…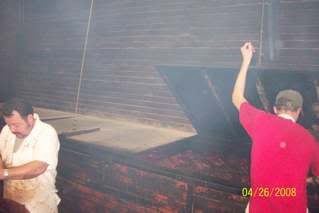 Smitty's had all the usual stuff…plus the addtion of Prime Rib! As usual, we tried to get it all!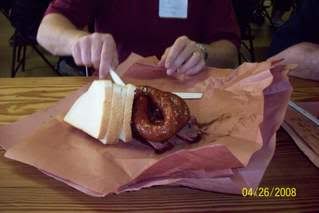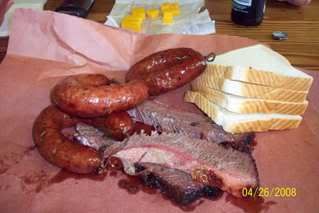 Here's our little threesome of me, the ChiTownDiner, my good friend Rick and my brother Kerry.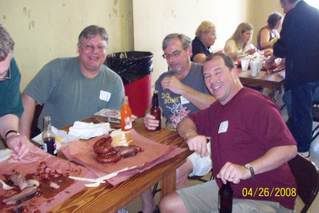 Always close at hand for emergencies, sharing, food 911 and new best friends – Buffetbuster and his cousin Johnnie.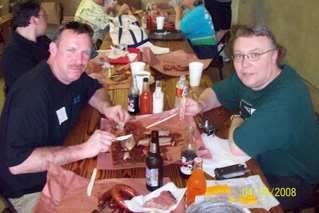 After all the meat…silliness started to set in…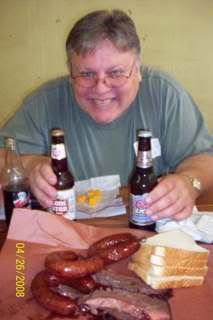 BTW – Bud Royer showed up again with an entirely, new selection of his wonderful pies. Needless to say, I went all in and tried a few more…
You can't really understand the amount of smoke in this place unless you experience it, but here is a look down the stairs to the main barbeque area as shown above from our upstairs dining room…check out the smoke…and see the fire at the bottom, basically on the floor!

Rick thanks the pitmaster before heading outside to clear his eyes…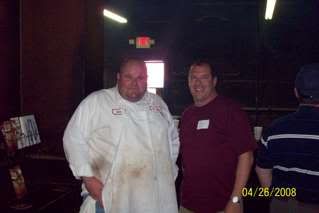 The town has some neat little treasures such as the court house.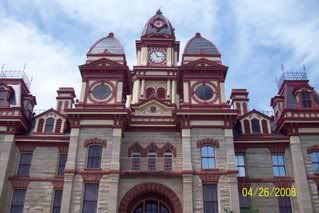 Back on the bus for the 5 minute ride to competition…the brothers version of Smitty's…Kreuz Market. Rumor has it that when Kreuz moved out of the original location (now Smitty's), the embers were transported by horse drawn cart through town in sort of a parade to preserve the more than 100 year run of those same embers keeping the que fires burning!

Note the embers on the floor directly behind me…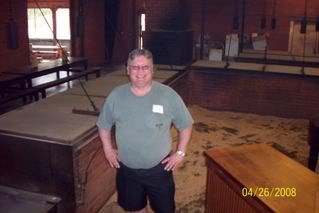 Rick did the ordering here and we dined on brisket, sausage, prime rib and a GREAT ham steak was added into the mix.

htt,29,396548.029,1,37546,67.177.126.124
396576,396548,396548,2008-05-02 17:26:00,RE: Austin Texas – April 2008″