empty_5
Member
For the better part of October I took a trip through Oregon. I found some great food, met (and re-met) some RF'ers and saw some beautiful scenery. Here's what I found.
I spent most of my time in Oregon around the Corvallis-Albany area, also visiting Portland, Seaside,Gearhart, Astoria and Newport. While it does not have a great variety of restaurants, I did find several that were noteworthy and a few that deserved a second (and even third) visit.
One Saturday night, I met RF'ers Mr. Chips and Trudy at one of our favorite places, Novak's Hungarian in Albany. I had met them there on my last visit to Oregon two years previously and it was top of the list to re-visit. Novak's is virtually the only Hungarian restaurant in Oregon. Even though they moved to a larger location several years ago, they are still owned by the same family who take an active role in the restaurant. We started off with their Langos, which seems to be a Chips family favorite. It is a type of fried bread and comes with three dips—–apricot and strawberry preserves and a garlic dip too.


Dinners were somewhat easy to order. While they have a large menu, all of us seemed to have our favorites in mind before we ordered. Jim ordered the Gulyas Soup, Trudy ordered the Becsi Sezlet, a beef version of a schnitzel/cutlet. I ordered the Parizsi Sezlet, pork tenderloin breaded and fried. Thinking ahead, Jim decided to only have the soup so he would have room for the dessert.
Soup and salad came. The soups were full of beef, carrots and potatoes.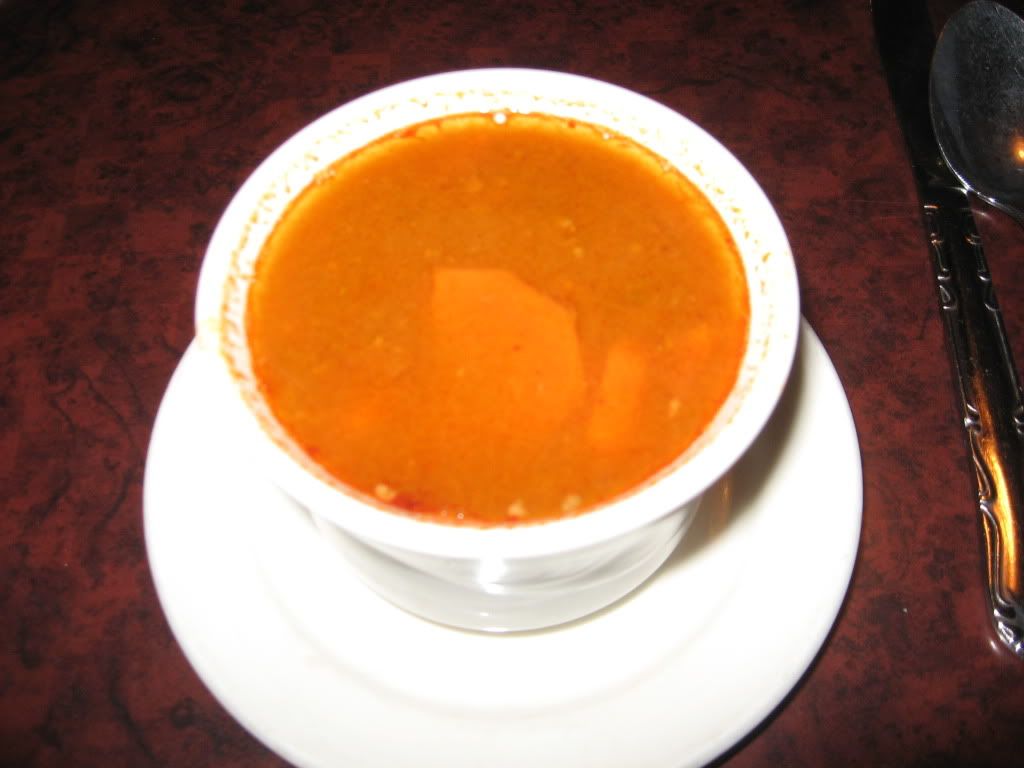 There was a minor mixup when they brought the dinners. Our waiter brought the wrong thing for Trudy. This did, however give me a chance to snap a pic of it before the Beef Porkolt, a dish of sirloin tips in gravy over noodles was returned and the right dish brought to the table.
Trudy received her beef cutlet promptly accompanied by noodles and broccoli.


My dish also came. Surprisingly, the pork cutlet was more of a chunk of pork tenderloin rather than a thin-sliced tenderloin. It was moist and flavorful, and came with delicious mashed potatoes.


Jim had ordered the Dobos Torta to share for us for dessert. It's multiple layers of cake, chocolate cream and almonds.


Everyone had a few bites of it, but we were all so full that he took it home. Hope you enjoyed it the next day too, Jim!
On my way back to California I had arranged to meet Bill Voss for lunch. He suggested a small Mexican lunch counter in a Mexican market as the place to meet. Before that, I had eaten at three Mexican places in Corvallis, none of them anywhere close to the food I regularly get in Southern California. Bill had given me directions to La Tapatia and I was hopeful when I pulled up and saw the sign.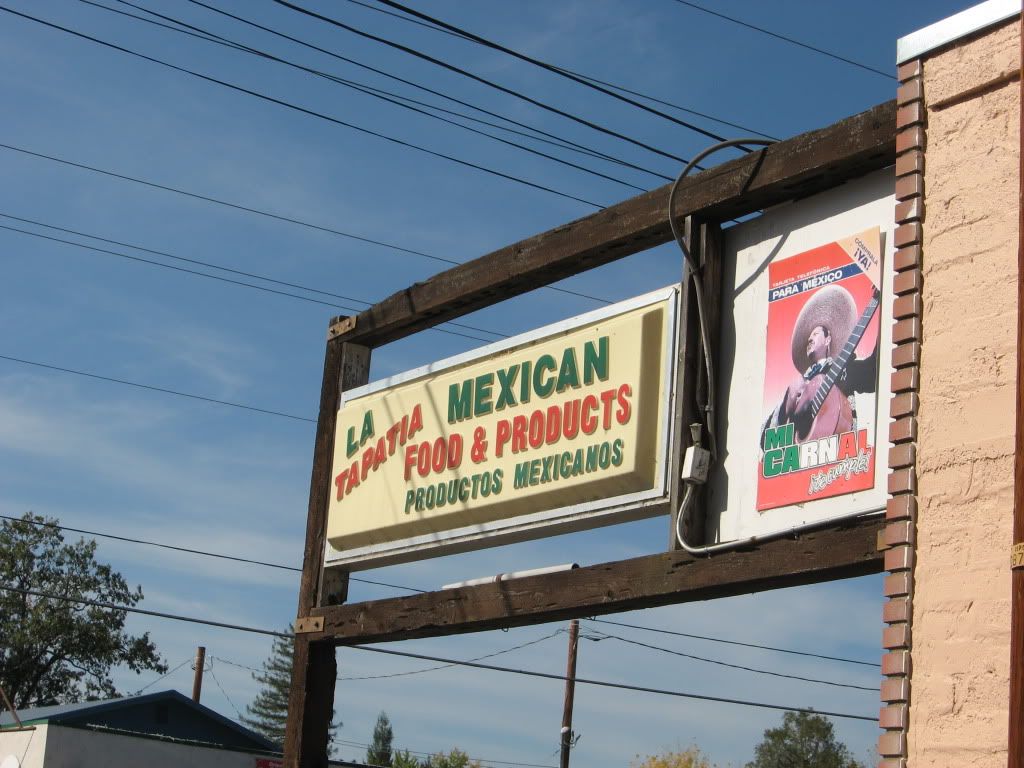 It looked a lot more like the places I was used to eating in. I looked at the menu on the wall to figure out what I wanted. Bill came in soon. Shortly after that, as we talked, it seemed like we had known each other for years. He ordered two tacos and a Bohemia Beer.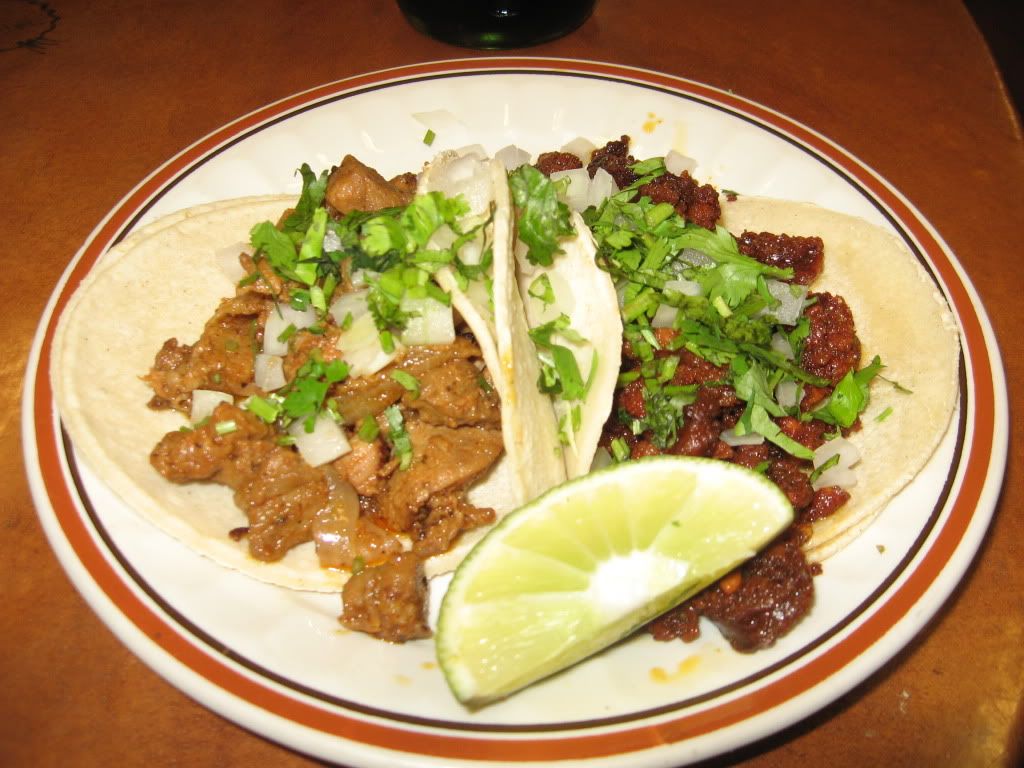 I ordered the same tacos, al pastor (pork) and chorizo, plus a chili relleno with salad, rice and beans.