Sara Noonan
Member
There are times when I get home from a trip, I want to write about one or two places that were visited, but don't have the time or inclination to do a full report. When that happens, I'm just going to pour them into this thread. So, this is going to be a mixture of restaurants from all over the place.

This past weekend, I was driving around (mostly) Iowa. One of the reasons for going to Iowa was to revisit a real favorite, Wilton Candy Kitchen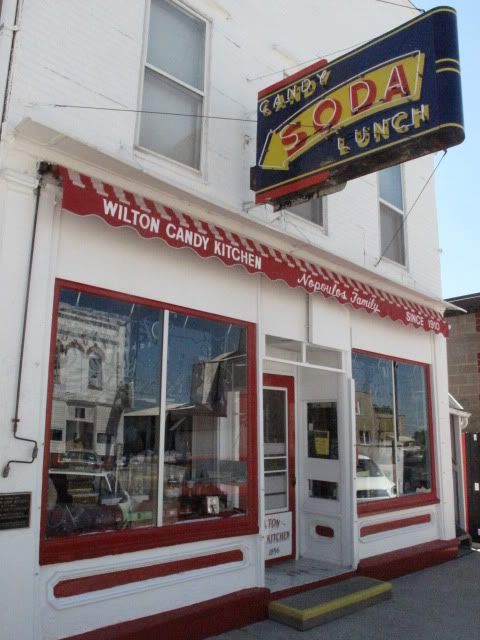 in Wilton, Iowa. Wilton is a town of just under 3,000 people and is located a short distance from I-80.

I walked in the door just a little after 10:00 on Saturday morning and owner George Nopoulos was already holding court. There was a couple dressed in biker gear at the counter, while two guys in overalls/work clothes stood behind them. They were all chatting and listening to George's stories, so I grabbed a counter seat and quickly joined in the conversation. The youngest guy had only been married for a month and everyone was quick to give him advice, with plenty of laughs being shared. The biker couple explained they were both on their third marriages, second one to each other! While this was going on, George was eating what he called his "morning pick-me-up", a couple scoops of ice cream with hot fudge sauce on it. At one point, he stopped, looked at the group and said, "I'm not saying it's good, (pause)…..but it sure ain't bad!" and winked at me. I felt like I was with Burt Lancaster in Field of Dreams!

George asked me what I wanted, so I started inquiring what was in some of his mixed sodas. They have quite a list on the mirror.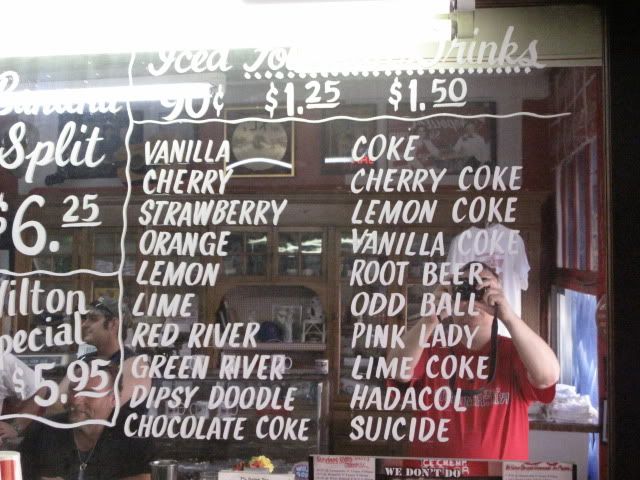 He patiently described each one, usually answering with some sort of a joke. Once I heard the hadacol was mixed with vanilla syrup and root beer, I went for that. George poured out the different syrups in just the right amount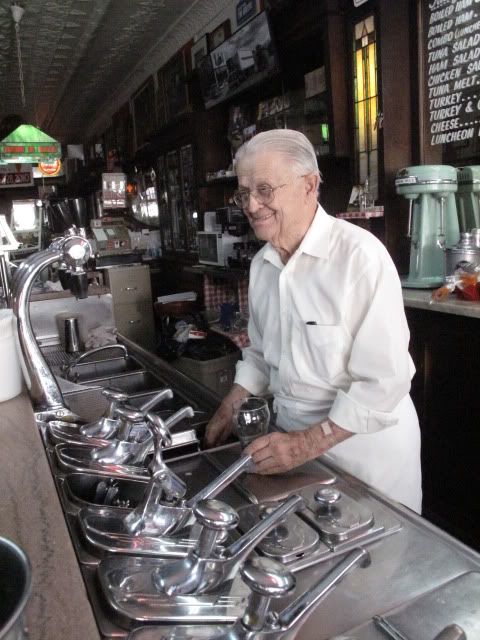 and expertly mixed them together. Needless to say, it tasted just like a first-rate cream soda. As for the name, George explained, "I hadacol it something!" Here is my drink


with George enjoying his "morning pick-me-up" in the background.

It was at about this point that it came up in conversation that George was now 90 years old. 90! Unbelievable! And he still comes to work everyday, making his own ice cream. Astonishing! I did ask him what his secret to longevity was and he said to never stop moving. He said if he stopped moving, he would dead in a year. Don't expect George to ever retire, which is a great thing for the town of Wilton and Roadfooders everywhere.

The only thing in town older than George is the Candy Kitchen itself. The building goes all the way back to 1856


and it is recognized by some as the oldest soda fountain the US. How much of it is original, I have no idea. But, I can't imagine it has changed too much over the years. Some photos fr,29,601020,0,9261,209.195.152.119
601019,599244,600891,2010-07-20 15:59:19.730000000,Re:A pair of back-to-back roadtrips: KY and PA"