billyboy
Member
Hello all,
I wanted to let my fellow Roadfooders know that another of our group, Lexi, passed away on Friday September 1, 2017 after a long battle with a lifelong heart defect. She received a a new heart this past May but it was not meant to be.
Alix (Lexi) first reached out to me around 2009 to tell me that I really needed to try her brother Dave's place, The Only Cafe in Verona, NY the next time I was in Central NY visiting my family. I did, I loved it, loved Dave and looked forward to when we could actually meet in person to break bread. The first time we met was strolling around the Lower East Side and brunch at Shopsin's General Store in the Essex Market. The Travelin' Man and his friend Brett met us and TTM & Lexi spent some time poring over the extensive menu before going in. The funny thing is that the owner, Kenny Shopsin, is notoriously mercurial and one never knew what mood he might be in on any given day. Lexi had brought a copy of his cookbook to get it signed and TTM and I pleaded with her not to approach him, lest he be having a bad day and give us grief. Kenny warmed right up to her and signed the book and that just made her day. I knew she was cool!
We made a run to the Doughnut Plant just a few blocks away, of course. It was a really fun day and it felt like I had known Lexi for years. I can't say that about very many people upon first meeting them.
Lexi joined us in April of 2011 for a NYC meet-up that The Travelin' Man had put together. I'm not sure what was said or happening right before she gave Chris the side-eye in this photo take outside of L&B Spumoni Gardens in Brooklyn, but I do know there was a lot of laughter throughout the day.
I forget where the tiara came from (it may have been Kate's) but Lexi was queen for a day at the Grand Central Oyster Bar.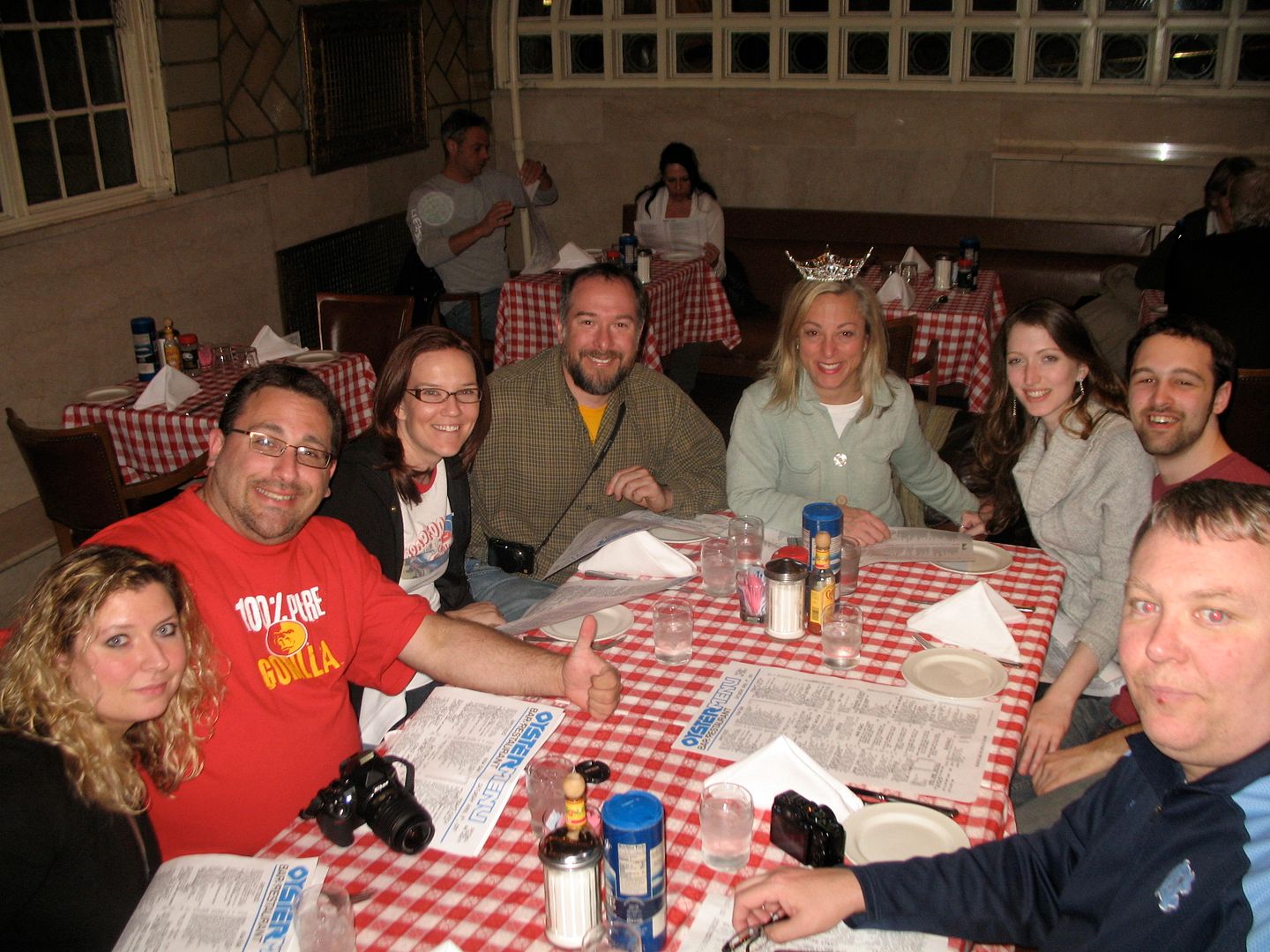 And my favorite photo, Lexi with her chicken & waffles at Amy Ruth's in Harlem. TTM, my girlfriend Dayna, Lexi and I all had lunch there on Martin Luther King Day in 2012.
I did get to visit her one time while she was in the hospital before her transplant and bring her some homemade cookies. She still had her smile and great sense of humor.
Lexi, I'm so glad you were part of the Roadfood community and that I and many others had the privilege to share many meals with you. My next lobster roll is in your honor.